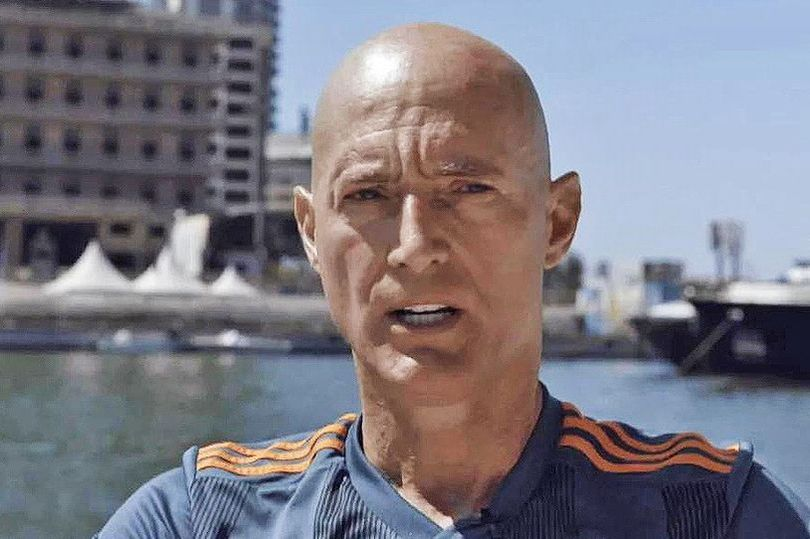 Last March, Dutch authorities asked Lebanese police to raid the Beirut homes of Robert Mink Kok, a notorious drug trafficker suspected of bringing several huge shipments of cocaine through the port of Rotterdam in 2019. When the cops in Beirut stormed the properties, they expected to find some guns, typical stuff for a kingpin. They were astonished to discover a massive arsenal: Glock pistols, heavy machine guns, anti-tank rockets, as well as thousands of rounds of ammunition, distributed across Kok's homes in Beirut and Beqaa Valley, a notorious center of Lebanon's illegal drug industry.
A Lebanese official involved in the investigation told me the weapons caches were maintained by Kok and Najim Zaiter, his brother in law. While the Zaiters have a habit of staying heavily armed, for a foreigner like Kok, the stockpile was huge, the police official told me. "It's Lebanon so we expect everyone to have guns. There's a Kalashnikov in almost every home. But Kok and Najim seemed like they were preparing for a war," the official said.
Najim belongs to one of the most infamous criminal clans in Lebanon, with its own drug cultivation and smuggling operations. It also boasts a sizable militia that clashes regularly with rival clans in Beqaa. Kok and Najim may have been preparing for a gang war for control of Lebanon's hashish trade, the cop said.
Kok's set up exemplified an increasingly popular model for drug cartels. Stash your weapons and yourself in a country like Lebanon where the rule of law is weak. From there, manage your huge cocaine shipments coming through faraway places like Antwerp and Rotterdam.
Nawah Zaiter, widely regarded as the head of his family's criminal enterprise, escaped arrest on multiple occasions in the early 2000s. In 2004, police attempted to surround his house to arrest him. But assailants working for the family holed up in a nearby mountain range and fired an 81mm-mortar — a weapon with a range of over three miles, used in the battlefield to decimate infantry and unarmored vehicles — at the cops. "They had a mortar and we had pick-up trucks, so we called the army and left," an officer on the 2004 team said.
In the years since, Lebanon's army has failed to locate Nawah, who ranks among the country's most wanted fugitives. Lebanese authorities have brought more than 100 arrest warrants and more than a dozen convictions in absentia against him on charges ranging from drug trafficking to murder.
While Kok's ties to a powerful criminal group like the Zaiters, a politically powerful clan, would have been enough to shield him from harassment from the authorities, a warrant from an EU country like the Netherlands would be near impossible to ignore. "The family never turns over [one of their own] and will make it as hard as possible to extradite Najim," who faces the same slate of charges in Holland as Kok, the police official told me.
The difference, though, is that there's a limit to how far the family elders will go to protect Kok. While he's a trusted business partner and friend, unlike Najim "he's not a Zaiter by blood and is really just some white guy from Europe. The Zaiters aren't going to get too involved in something they see as [a conflict] between the Europeans."
Since the March 2022 extradition request, The Netherlands has sought the extradition of Kok from Lebanon, where he was jailed in 2011 for possession of over 50kg of cocaine he planned to smuggle into Europe. He wound up serving seven years before his eventual release. In comparable cases, a country in Lebanon's position would typically deport him after he served his sentence. But Lebanese authorities did not do so. "Kok should have been on the first plane to the Netherlands after he was released from prison in 2018," the Lebanese police official said. But Dutch authorities canceled his passport, a tactic usually deployed to lure someone to an embassy. Kok is also married to a Lebanese woman with powerful political and criminal connections. "So he was able to avoid deportation until the Dutch sent a new warrant for his arrest in March," he added.
The charges that led to the raid last March stem from the hack by European law enforcement of Sky ECC, an encrypted chat app previously considered secure by mobsters worldwide. The hack showed Kok and Najim had been working with contacts in South America to import nearly two metric tons of cocaine in three separate shipments through the ports of Antwerp and Rotterdam from 2019 to 2020.
"Kok should have been on the first plane to the Netherlands after he was released from prison in 2018"
In one case, Kok's men lost track of 370kg of cocaine hidden in a shipment of bananas: According to a transcript of a conversation captured in the hack, it appears the traffickers in Antwerp lost track of exactly which container to unload, and it left port before they could remove it. With no idea which of millions of containers at sea held the drugs, Kok had to wait for police to eventually stumble upon the shipment days later in Hamburg, Germany, where authorities immediately confiscated it.
A European law enforcement official based in the Middle East familiar with the transcript of calls between Kok and Najim told me Kok went ballistic after his crew lost the drugs. Initially, he believed the shipment had been captured by authorities, but shrugged it off as the cost of doing business. "But as he realizes that … the drugs are literally just lost, sailing around Europe with a bunch of bananas because his guys lost track of the container, you can tell he's about to have an aneurysm or maybe murder someone."
Wild discoveries like this will be a big part of the Gateway experience — both in this newsletter and in the podcast to come: Follow the guns, you usually find the money and the people earning it by the boatload.
Tips? Thoughts? Please get in touch with me here: thegatewayxxx@protonmail.me (DM me for my Signal number).
💡
GATEWAY is an initiative
of Project Brazen
, a journalism studio and production company based in London and Singapore. Follow our newsletter
WHALE HUNTING
delving into the hidden world of the rich and powerful.
Join Gateway for free
Stay connected with Gateway and get our latest updates right in your inbox.